Golf Lessons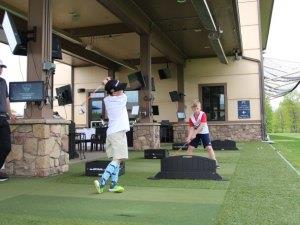 Toptracer Golf Lessons
Take advantage of Toptracer technology and get a private golf lesson at 1757 Golf Club.
TOPTRACER MONITOR • WHAT'S IN MY BAG • VIRTUAL GOLF
$170 each session or $680 for a series of 5 lessons (save 20%) includes:
1-hour lesson with one of our PGA Teaching Professional.
Use of Toptracer Technology.
Unlimited Range Balls for the Hour.
---
Toptracer Monitor
Improve your swing and consistency In this mode the instructor will help you to hone your skills with targets on the range, launch angle, side deviation (curve), and ball speed. These tools will help in making improvements in swing and consistency.
Full Swing Technique – learn the cause and effect launch angle, ball speed, curve (spin rate), height and distance have on your swing. This information will improve your swing technique and consistency.
What's In My Bag
Dig deeper into the details for each type of club in the bag.
Full Bag Assessment – an instructor will help take you through a full bag evaluation which will help you determine if you have in gaps in your set IE: do you need to add or subtract a club such as a wedge, hybrid, fairway wood, Driver.
Virtual Golf
We bring the golf course to the range!
Shot Shaping – Draws, fades, high, low. Ever wanted to know how to shape your shots? Hit a fade or a draw? Hit higher or lower? By using the Virtual Golf portion of the Top Tracer application an instructor can apply this technology to teach the proper technique and drills to learn how to shape your shots.
Playing Lesson/Course Management – Dog Legs, playing a fade or draw, club selection, managing your game. With these sessions the student will learn how to manage their game, when to play a draw or fade, how to play a do leg, club selection. Using your strengths and avoiding your weaknesses.
Book Your Toptracer Lesson